There are two types of zDirect Platform partners:
Fashion Partners: Brands or businesses who sell products through Zalando Fashion Stores.
Technical Partners: Internal or external developers who integrate on behalf of Fashion Partners.
Each Fashion Partner has one or more associated Merchants, and each Merchant is assigned a Merchant ID, which is used to uniquely identify it to the zDirect API.
There are many reasons why a Fashion Partner may have more than one Merchant. For example, some brands are incorporated as different organizations in different countries, and the organizations may have different products available for sale in different regions.
When Fashion Partners invite Technical Partners to develop on their behalf, they grant the ability to develop for any or all of their associated Merchants. Fashion Partners also grant Technical Partners specific access permissions to various APIs or data. When developers create apps, they may assign some or all of these permissions to the app.
The diagram below illustrates a typical case where a Zalando Fashion Partner has invited a Technical Partner to develop on their behalf. In this example, the Fashion Partner has two associated Merchants, each with its own Merchant ID. When the Technical Partner creates an app, they may grant it access to one or both of these Merchants. They may also grant scopes, or access permissions to specific types of data or APIs, to each app.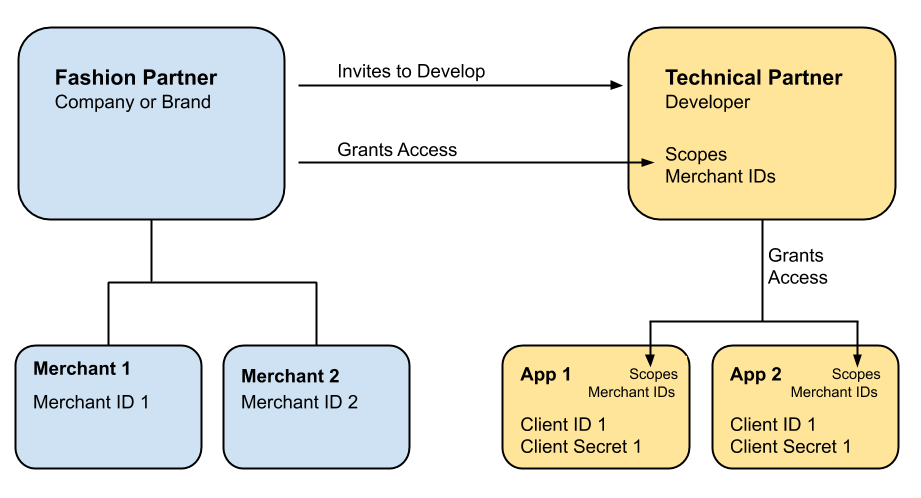 A single app may be used by multiple Merchants associated with the same Fashion Partner, but not by multiple Fashion Partners.
For more information, see "Scopes: Configuring Access Control for Apps" in Creating and Managing Apps.
Contact Support